Live HD transmissions from the Bolshoi Ballet!
Season 2016/2017
For the 7th consecutive year, the Bolshoi Ballet opens its doors to global audiences only in cinemas for a 2016-2017 season boasting impeccable classicism and daring performances. With timeless classics (The Nutcracker, The Sleeping Beauty, Swan Lake), productions signature to the Bolshoi (The Golden Age, The Bright Stream, A Hero Of Our Time) and an evening dedicated to modern choreography (A Contemporary Evening) - the Bolshoi proves once again that it is one of the world's foremost ballet companies.
Ticket prices
At cinema box office season subscription will be provided for very special price – 7 tickets for 64.75 €.
Regular ticket - 14.00 €
Cinema Club:

Cinema Friend –13.30 €
Cinema Fan – 11.90 €
Cinema Guru – 11.20 €

For children – 8.40 € (up to age of 12). Children up to age of 5 (incl.) do not need ticket assuming that the child will sit on the lap of a parent or a guarding during the entire show.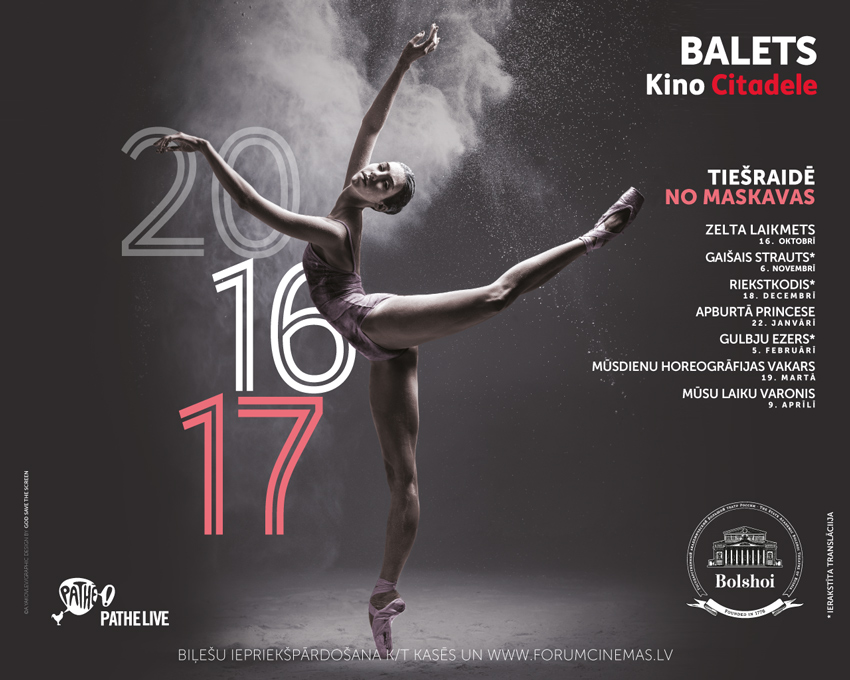 Bolshoi Theatre: A HERO OF OUR TIME




A HERO OF OUR TIME

Pechorin, a young officer, embarks on a journey across the majestic mountains of the Caucasus, on a path set by his passionate encounters.

Release Date: 09.04.2017, Length: 2h 45 min

Genres: Ballet