Metropolitan opera Summer Encores!
Five popular operas on the big screen.
The Met Presents 2017 Summer Line-up of Encore Screenings Featuring Popular Live in HD Transmissions, beginning Wednesday, May 17 with "DER ROSENKAVALIER". Encore presentations offer another chance to see popular operas from the award-winning series in movie theatres on the big screen.
Ticket prices:
Regular ticket

- 14.00 €

Cinema Club

:

Cinema Friend

– 13.30 €

Cinema Fan

– 11.90 €

Cinema Guru

– 11.20 €
At cinema box office season subscription will be provided for very special price – 5 tickets for 55.00 €.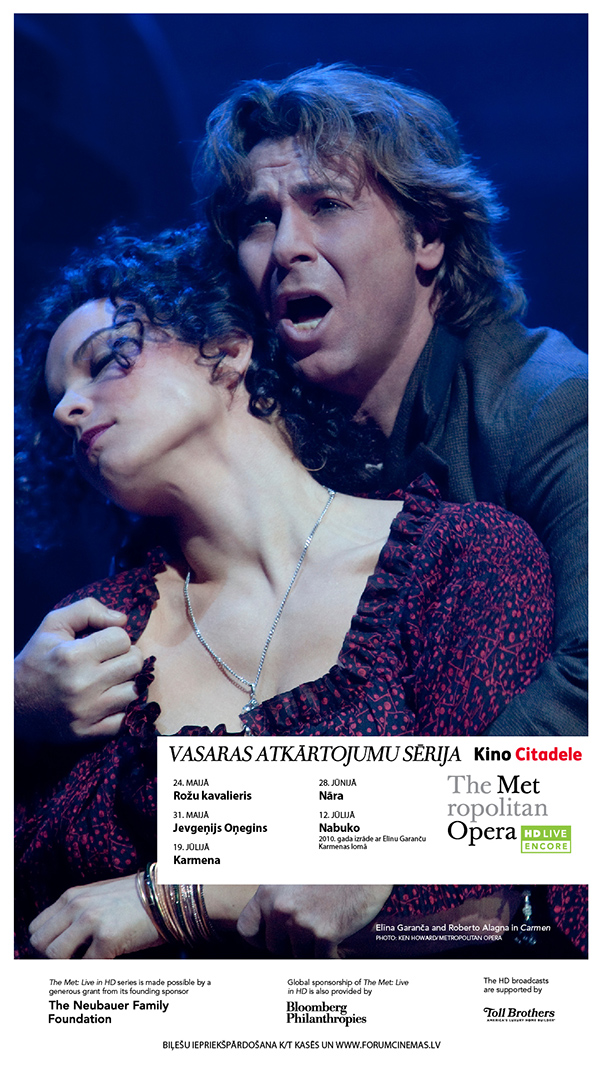 Metropolitan Opera: RUSALKA




Metropolitan Opera: RUSALKA

Kristine Opolais stars in a new production of the opera that first won her international acclaim, Dvořák's fairy-tale opera about the tragic water nymph Rusalka.

Release Date: 28.06.2017, Length: 4h 05 min

Genres: Opera

Metropolitan Opera: NABUCCO




Metropolitan Opera: NABUCCO

Met Music Director James Levine conducts Verdi's early drama of Ancient Babylon, Nabucco, with Plácido Domingo adding a new role to his repertory as the title character.

Release Date: 12.07.2017, Length: 3h 04 min

Genres: Opera

Metropolitan Opera: CARMEN




Metropolitan Opera: CARMEN

One of the most popular operas of all time, Carmen "is about sex, violence, and racism—and its corollary: freedom," says Olivier Award-winning director Richard Eyre about his new production of Bizet's drama. "It is one of the inalienably great works of art. It's sexy, in every sense.

Release Date: 19.07.2017, Length: 4h 00 min

Genres: Opera