Movie News
Komēdija "Svingeri" kļuvusi par trešo visu laiku veiksmīgāko spēlfilmu Latvijas kinoteātros
Pašmāju komēdija, kas izraisīja skaļas diskusijas pirmajās izrādīšanas nedēļās, ir iemantojusi plašu skatītāju atbalstu.
Ienākumu ziņā filma "Svingeri" ir kļuvusi par trešo veiksmīgāko spēlfilmu Latvijas kino izrādīšanas vēsturē (neskaitot animācijas filmas), uzreiz aiz tādiem kases grāvējiem kā Džeimsa Kamerona "Avatars" un Aigara Graubas "Rīgas Sargi", bet apsteidzot tādas skatītāju iecienītas filmas kā "Ātrs un bez žēlastības 7" un "007: SPEKTRS". Latvijā komēdiju "Svingeri" noskatījušies jau vairāk kā 90000 skatītāju un tās kases ieņēmumi ir sasnieguši teju pusmiljonu eiro (uz šo brīdi vairāk kā 465 000 eiro)!
Filmas producents Kristians Alhimionoks stāsta par filmas rezultātiem: "Komēdija ir sarežģīts kino žanrs. Veidojot filmu, neviens nezina, cik smieklīga tā būs un vai vispār tā būs smieklīga. Andrejs Ēķis kopā ar mūsu talantīgajiem aktieriem pierādīja, ka Latvijā komēdiju žanrs ir iespējams un pieprasīts. Pirms tam to ir apliecinājuši tādi izcili režisori kā Jānis Streičs un Varis Brasla. Pēdējos gados Latvijā radītās filmas pieder drāmas žanram, un tās ir skumju un nolemtības pārņemtas, bet "Svingeri" deva iespēju skatītājiem pasmaidīt un pasmieties pašiem par sevi. Tieši tas arī ir filmas veiksmes pamatā. Tāpat, šis ir pirmais gadījums Latvijas vēsturē, kad filmas tapšanā piedalījās SIA Forum Cinemas. Paldies, ka uzņēmums noticēja idejai un atbalstīja filmas tapšanu no pirmās tās dienas".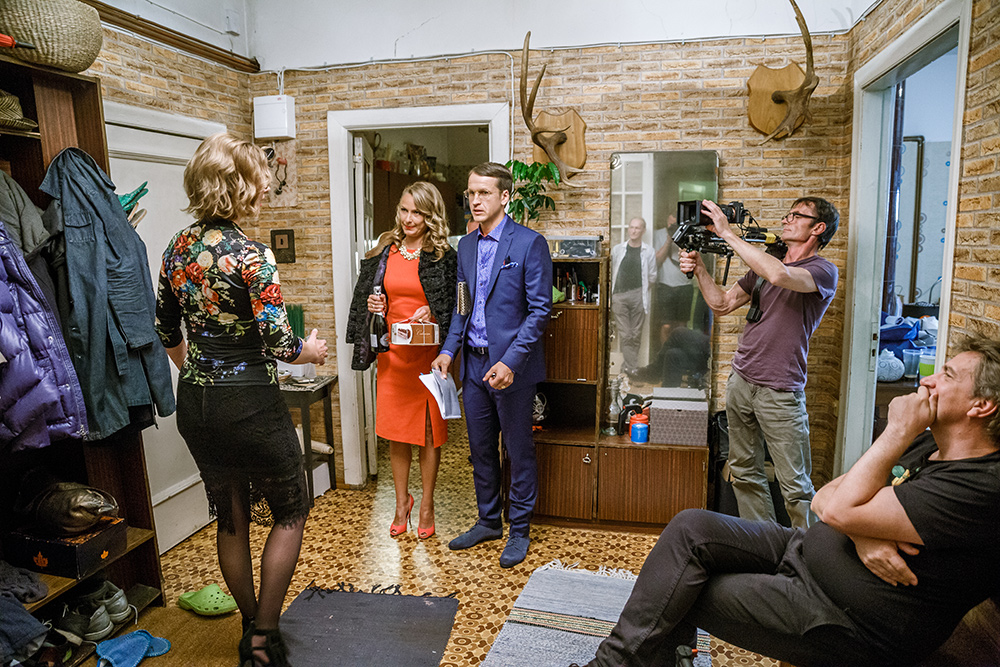 Filmu "Svingeri" veidojusi profesionāla radošā komanda: režisors Andrejs Ēķis, producenti Kristians Alhimionoks un Zanda Seņkova un scenārija autore Rasa Bugavičute-Pēce. Greizsirdīgo un kaislīgo mīlētāju lomās iejutušies Latvijas labākie aktieri - Intars Rešetins, Kristīne Nevarauska, Elīna Vāne un Ģirts Ķesteris, kā arī jaunie talanti Kristīne Belicka, Jurijs Djakonovs un plaši pazīstamais mūziķis Jānis Jubalts.
Filma uz kino ekrāniem nonāca 9. decembrī un to joprojām iespējams noskatīties kinoteātros gan Rīgā, gan citur Latvijā.